The Restaurant at ZAMAS
The Restaurant is the pulse of ZAMAS; widely renowned for its beautiful ocean views and fantastic food, it creates a beckoning locale in the mode of Tulum as it should be. We're committed to sourcing local ingredients to compose elegant, innovative, and seasonally driven dishes. Fresh in concept and preparation, the menu's varied flavors appeal to many palates. From the gambas pil pil to the thin crust margherita, from Irma's famous huevos rancheros to the indulgent ricotta doughnuts, a meal at ZAMAS is an experience not to be missed.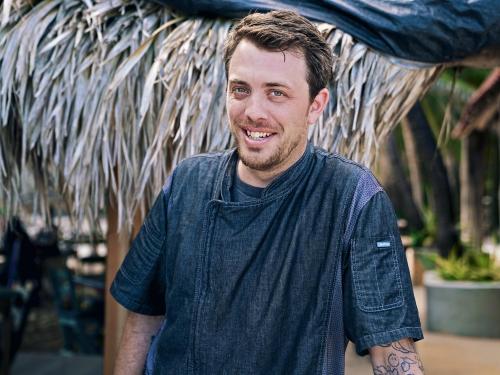 In 2018, Bryan Keller joined the ZAMAS family as Executive Chef. Bryan brings a diverse background to the team- from small startups to large scale corporate restaurants. Chef Keller's focus is on sourcing the best ingredients available to create unique dishes that honor the culinary traditions of the area while offering guests a modern dining experience.
Taste of Tulum

The hotel's annual visiting chef and bartender series brings new techniques and flavors to the property each season, and is just one example of ZAMAS' commitment to cross-cultural exchange by connecting travelers to the local culture through a common bond of delicious food.

2016 brought a series of culinary experts from across the United States. As native San Franciscans, ZAMAS founders Daniel Vallejo McGettigan and Susan Bohlken built a lineup from their beloved City by the Bay, peppering in some Southern Hospitality with chefs from Texas, Georgia, and Mississippi. 2017 welcomed Chef Jesse Houston for 4 months as Executive Chef, putting a new spin on the ZAMAS classics and hosting a 5 course tasting menu during the Noma popup.

Stay tuned for the 2018 lineup. Interested chefs/bar professionals please contact susan@zamas.com.